The Atulya Ganga Project is a unique and unprecedented social initiative by army veterans which was launched with the sole aim of preserving Indian Rivers and their dependent eco-system in its entirety. 
As part of Atulya Ganga's first mission, the team launched a Mundamaal Ganga Parikrama (MGP). MGP is a revival of an ancient Indian tradition in which you walk on foot clockwise, circumnavigating the length of Ganga covering both its banks.
The walk starts and ends at the same point and one is permitted to cross the Ganga only at the start of the walk and at the end – Gangasagar where it meets the ocean.
6000 km, 8 months long MGP is the most challenging adventure and physical activity and hence needs the most meticulous physical and mental preparation.
This is the first-ever attempt at MGP by a bunch of hard-core adventure enthusiasts trained by Lt Gen SA Cruze, VSM** ( Retd), a leading international expert on sports training. 
With an integrated mission and slogan of Sabka Saath Ho, Ganga Saaf Ho the MGP team embarked on an arduous 8-month long and 6000 km walkathon to spread awareness about clean rivers and the need to let them flow naturally.
With the flag-off by the Her Excellency Smt Anandiben Patel, the Governor of UP, the MGP for clean Ganga began from Prayagraj on December 16, 2020. The Parikrama was also blessed by Sh Gajendra Shekhawat Ji, Minister of Water Resources, Sh Prahalad Patel Ji, Minister of Tourism and a special message by Sadhguru Jaggi Maharaj. 
The team is working towards synergising all efforts of the government, non-government organisations, corporate, volunteers and the common public – bring them to the common table – for rejuvenating Ganga.
The Parikrama can be divided into three distinct phases – 
Phase 1 – Prayagraj to Gangasagar – a walk of approximately 1500 km, covered in 51 Days, from 16 Dec 2020 – 04 Feb 2021. (Completed)
Phase 2 – Gangasagar to Gomukh – a walk of approximately 3000+ km, covered in 105 Days, from 05 Feb 2021 – 21 May 2021. (Underway)
Phase 3 – Gomukh to Prayagraj – a walk of approximately 1500+ km, covered in 81 Days, from 22 May 2021 to 10 Aug 2021. 
After 65 days and approximately 2000 km through the densely populated lands of Uttar Pradesh, mapping the fertile ecosystems of Bihar and immersing in the culturally rich West Bengal, the Parikrama team has entered the tribal Jharkhand.
The walkers would reach the historic city of Patna, after covering an arduous 2500+ km – by 09-12 March 2021. and proceed to Varanasi – Rishikesh – Gomukh and culminate at Prayagraj by August 2021.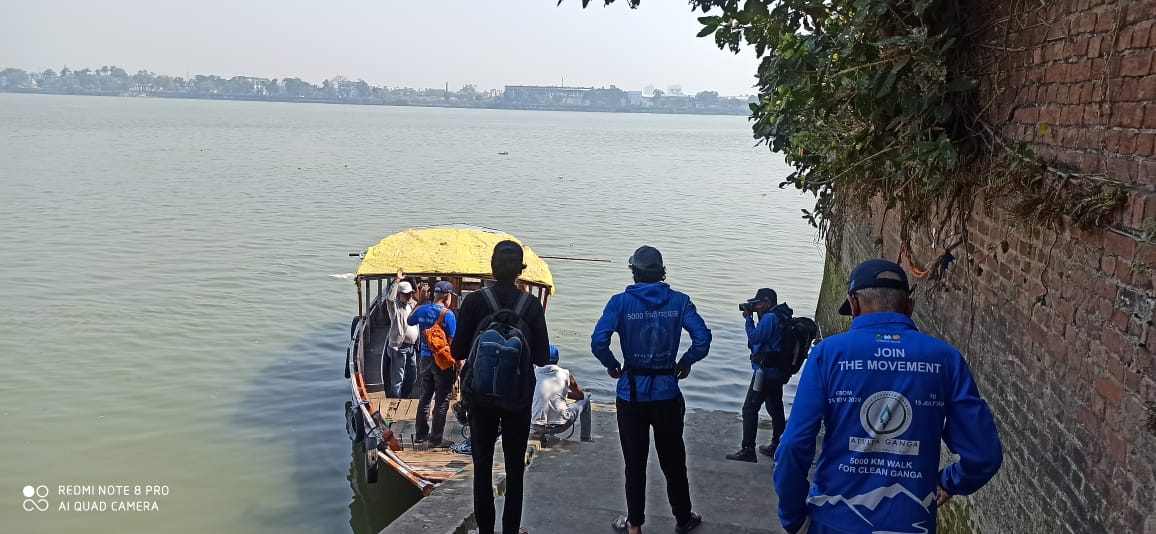 Landmark U Turn at Gangasagar
The Atulya Ganga Parikrama reached Gangasagar on 04 February 2021- the first major landmark after completing 1500 km of the walk – at the feet of Maa Ganga. This is where the Walkers crossed over from East Bank to West Bank on 05 February 2021. On the way upstream on the western bank – they have now reached Jharkhand. 
People Participation : A Pillar of Support
All through its 2000+ km journey so far, the Parikrama team has received unprecedented welcome and support from local communities and enthusiastic individuals.
The National Cadet Corps (NCC) and Adventure fraternity are two organisations that have supported the Mundamal Ganga Parikrama team at every step of the walkathon. Maj Gen Indra Balan ADG NCC Bihar is spearheading youth participation and support in Bihar.
Jan Bhaagidari or Peoples participation in raising the agenda for clean rivers in their respective geographies and their active support to all Government ef-forts to this end is critical to the success of this ambitious project.
The local population that is most affected by the changes to Ganga – has wholeheartedly welcomed the walkers with open arms. Each of them as a great hope that the movement is the need of the hour – and Ganga Maa must become Nirmal and Aviral. 
Pollution Mapping and Tree Plantation
Besides walking and creating awareness among the masses along the way the MGP team members are also mapping the pollution levels every 5-10 km of Ganga and geo-tagging every source of pollution flowing into Ganga.
A separate team of Green India Foundation is accompanying the walkers and planting sustainable trees all along the Ganga route to help in soil conservation and recharge of the groundwater levels.
Last but not least the team is also documenting the different landscapes, the unexpected sights of river life, cultures and rituals along the Ganga. As the Atulya Ganga mission team marches ahead to accomplish its journey every Indian citizen should join hands and contribute his/her bit to preserve Ganga and all the life-giving rivers.
Clean water and flowing rivers are perpetual necessities of any nation and would be a disgrace and disservice to humanity if we leave our sacred rivers polluted for our future generations. 
The Team
The founding members of the Atulya Ganga Project are veterans and adventurers – Sh Gopal Sharma ( ex-Military Engineer), Lt Col Hem Lohumi SM (retired) and Col Manoj Keshwar (retired).
The team now has members from all walks of life and from different parts of India. The full Parikrama walkers are Col RP Pande ( a Paratrooper and veteran from Pune), Sh Hirenbhai Patel ( An adventurer and Farmer from Ahmedabad), Indu ( an adventurer and media person from Delhi), Rohit Umrao (an adventurer and Senior Photojournalist from Bareilly), Rohit Jat ( a journalist and organic farmer from Hapur), Shagun Tyagi (a youth farmer from Hapur).
Maj Gen VK Bhatt is leading the critical pollution mapping team of Parikra-ma and Lt Gen SD Duhan is walking and looking after the medical care of the team. Lt Col Anil Dubey, Col AR Ganapathy, Cdr Vishwanathan, Capt Ritu Biyani, Lt Col Anil Sinha are doing a major part of Parikrama. 
The Vrikshmaal or Tree plantation effort is led by Kaleshwar Mishra and Nitin of Green India Foundation led by Mr Vijay Shukla. 3000+ saplings have been planted and handed over for individual care and nurture.
We aim to plan 15000+ trees to be planted during the Parikrama. Besides the founding members, the Atulya Ganga Mission has renowned Ganga Author Abhay Mishra, famous social sector leader Sh Yogesh Shukla Ji, Ganga Karmayogi and journalist Pankaj Malviya Ji, many army veterans, social workers, philanthropists, environmentalist, educationists as members and volunteers. The Prayagraj foundation is one of them. 
Key Features of Mundamaal Ganga Parikrama
• First ever full Ganga Parikrama – is a revival of a Vedic tradition
• A clockwise – 6000 km – 8 Months walkathon – covering both banks of com-plete Ganga from Gomukh to Gangasagar. One of the biggest walk of the world. Route – Prayagraj-Gangasagar-Haridwar- Gomukh- Rishikesh Prayagraj
• 6 Permanent Walkers, 150+ Relay Walkers, 20,000+ Day Walkers
• Vriksh-maal activities – 20,000+ Trees Plantation of Bargad, Peepal and Neems saplings. (Green India Foundation)
• Pollution Sample collection every 5-10 kms, Pollution source Mapping & Source Geotagging. Development of Ganga Health dashboard and Index
• A Multifaceted walk – environment, adventure, nature, culture, spiritual, historical, mythical and promotes – #Swachch-Bharat #Swastha-Bharat